Senator Nathan Johnson: District 16
E-MAIL YOUR SENATOR
Click here to e-mail the Office of Senator Nathan Johnson
Press Room

07/29/2021

COVID-19 Resource Guide (updated)

03/17/2021

Sen. Nathan Johnson & Rep. Steve Allison File Bill to Combat E-Cigarette Use Among Youth

03/09/2021

Bipartisan, Bicameral Coalition Unveils Agenda to Protect Seniors After Murders

01/15/2021

Sen. Nathan Johnson Announces Appointment as Vice-Chair and Committee Assignments

11/24/2020

Sen. Nathan Johnson Files Legislative Priorities for the 87th Texas Legislative Session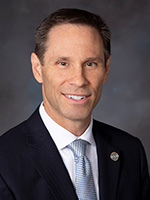 Occupation: Attorney, Holland & Knight LLP
Education: University of Arizona, B.S.; University of Texas, J.D.
Legislative Experience: Senate Member: 2019 - present
Hometown: Dallas
Party: Democrat
Elected with strong bipartisan support in 2018, Senator Nathan Johnson represents the economically and demographically diverse Senate District 16, which comprises the northern part of Dallas County.
Johnson graduated
magna cum laude
with a degree in physics from the University of Arizona, and earned his law degree from the University of Texas at Austin. He practices law in the Trial Practice Group at the law firm of Holland & Knight. He has also composed music for the classical concert stage and scored the hit television series
Dragon Ball Z
.
Johnson passed 22 bills into law during his first legislative session, all with bipartisan support. He earned a reputation for being a quick study who convenes and considers the views of diverse constituencies, and pursues creative public policy solutions. His emphasis on improving the health of Texans prompted him to author and support a number of healthcare initiatives, ranging from medical coding to Medicaid expansion, with much in between. Heading into next session, Johnson and his team are developing legislative strategies to foster sustainable, economic growth and broaden opportunity.
E-MAIL YOUR SENATOR
Click here to e-mail the Office of Senator Nathan Johnson
Press Room

07/29/2021

COVID-19 Resource Guide (updated)

03/17/2021

Sen. Nathan Johnson & Rep. Steve Allison File Bill to Combat E-Cigarette Use Among Youth

03/09/2021

Bipartisan, Bicameral Coalition Unveils Agenda to Protect Seniors After Murders

01/15/2021

Sen. Nathan Johnson Announces Appointment as Vice-Chair and Committee Assignments

11/24/2020

Sen. Nathan Johnson Files Legislative Priorities for the 87th Texas Legislative Session

Capitol Address
District Address
The Honorable Nathan Johnson
P.O. Box 12068
Capitol Station
Austin, TX 78711

(512) 463-0116

(TEL)

Merit Tower
12222 Merit Drive, Suite 1010
Dallas, Texas 75251

(972) 701-0349

(TEL)


(972) 661-1512

(FAX)
District Analysis: District 16

(Click the map to view a detailed district map in PDF format)