Senator Nathan Johnson: District 16
E-MAIL YOUR SENATOR
Click here to e-mail the Office of Senator Nathan Johnson
Press Room

07/29/2021

COVID-19 Resource Guide (updated)

03/17/2021

Sen. Nathan Johnson & Rep. Steve Allison File Bill to Combat E-Cigarette Use Among Youth

03/09/2021

Bipartisan, Bicameral Coalition Unveils Agenda to Protect Seniors After Murders

01/15/2021

Sen. Nathan Johnson Announces Appointment as Vice-Chair and Committee Assignments

11/24/2020

Sen. Nathan Johnson Files Legislative Priorities for the 87th Texas Legislative Session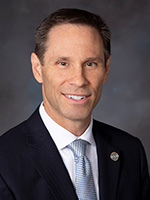 Occupation: Attorney, Holland & Knight LLP
Education: University of Arizona, B.S.; University of Texas, J.D.
Legislative Experience: Senate Member: 2019 - present
Hometown: Dallas
Party: Democrat
Elected with bipartisan support in 2018, Senator Nathan Johnson became the first Democrat to represent Senate District 16 in three decades. It was his first ever political race. In his first two legislative sessions he passed nearly five dozen bills into law, all with bipartisan support.

He passed laws that make private health insurance more affordable, expand the scope of palliative care services, combat vape sales to minors, and bring a new tier of critical teen mental health services to Texas. He also passed legislation to overhaul construction lien law, streamline regulatory procedures, protect seniors from crime, revise counterproductive criminal penalties, improve the health of soil and water, and phase out hydrofluorocarbons, along with various bills to address the local needs of District 16.

Johnson played a key role in the 87th Legislature's responses to winter storm Uri, including legislation to stabilize the state's energy markets and avoid future catastrophic failures of the power grid. His work in preserving patients' rights helped bring full bipartisan support to the COVID-19 liability law. Johnson is a sought-after speaker on the economic and social aspects of Medicaid expansion.

As a member of the Senate Committees on Business & Commerce, Water, and Jurisprudence, Johnson works on policy areas that are critical to the state, including electrical power, insurance, banking, technology and telecommunications, water rights, environmental quality, and state legal systems. Johnson also was appointed to the Texas Sunset Advisory Commission, a panel of lawmakers and private citizen appointees, charged with reviewing and proposing changes to state agencies to ensure that they effectively and efficiently serve the needs of the public.

Johnson holds degrees in physics from the University of Arizona and law from the University of Texas at Austin. He practices law in Dallas in the Trial Practice Group at Holland & Knight, and previously composed music for the classical concert stage and scored the hit television series Dragon Ball Z. Senator Johnson and his wife Anne, a Dallas appellate attorney, have three children in college and high school.
E-MAIL YOUR SENATOR
Click here to e-mail the Office of Senator Nathan Johnson
Press Room

07/29/2021

COVID-19 Resource Guide (updated)

03/17/2021

Sen. Nathan Johnson & Rep. Steve Allison File Bill to Combat E-Cigarette Use Among Youth

03/09/2021

Bipartisan, Bicameral Coalition Unveils Agenda to Protect Seniors After Murders

01/15/2021

Sen. Nathan Johnson Announces Appointment as Vice-Chair and Committee Assignments

11/24/2020

Sen. Nathan Johnson Files Legislative Priorities for the 87th Texas Legislative Session

Capitol Address
District Address
The Honorable Nathan Johnson
P.O. Box 12068
Capitol Station
Austin, TX 78711

(512) 463-0116

(TEL)

Merit Tower
12222 Merit Drive, Suite 1010
Dallas, Texas 75251

(972) 701-0349

(TEL)


(972) 661-1512

(FAX)
District Analysis: District 16

(Click the map to view a detailed district map in PDF format)