Senator Judith Zaffirini: District 21
Press Release
FOR IMMEDIATE RELEASE
August 30, 2017
Contact:
Will Krueger
(512) 463-0121
Senator Zaffirini Announces 60 New Laws Take Effect Sept. 1
New Laws Include Statewide Ban on Texting While Driving
(AUSTIN) — Sixty new laws, including 29 Senate Bills (SB) authored by Senator Judith Zaffirini, D-Laredo, and 31 House Bills (HB) that she sponsored during the 2017 legislative session, will become effective on Sept. 1 (Friday).
Texting while driving, for example, will be prohibited on all Texas roadways, thanks to HB 62, the Alex Brown Memorial Act, by Rep. Tom Craddick, R-Midland, and Senator Zaffirini.
The new law makes texting while driving a misdemeanor offense punishable by a fine of at least $25 but not more than $99 for a first offense, and from $100 to $200 for subsequent offenses. It includes exceptions for emergencies, the use of a cell phone for GPS, playing music or dialing and making a phone call (unless a local ordinance prohibits cell phone use).
While the state texting-while-driving ban is one of the most prominent, nearly 10 percent of all new Texas laws taking effect this week were authored or sponsored by Senator Zaffirini. She passed 109 bills during the 2017 legislative session, breaking her personal record for the second consecutive session and passing more bills than any other legislator. Since 1987 she has sponsored and passed 1,024 bills and 53 substantive resolutions—more than any other legislator in Texas history.
"Thanks to our productive collaboration during the regular legislative session, new laws taking effect this week will promote privacy and government transparency, expand access to critical health care services, enhance access to justice, eliminate burdensome and unnecessary regulations and improve public safety and security," Senator Zaffirini said. "Count on me to monitor their implementation and to develop additional necessary legislation for the session that convenes in January, 2019."
Other new laws taking effect this week include several authored by Senator Zaffirini that protect Texans under guardianship, including regulating guardianship programs (SB 36); enhancing protections against fraud and abuse (SB 39); and requiring probate bonds to protect vulnerable persons from judicial negligence (SB 40).
Also taking effect this week is her SB 42, the Judge Julie Kocurek Judicial and Courthouse Security Act of 2017, which enhances security for everyone who interacts with the Texas justice system, including judges, courthouse personnel, lawyers, jurors, law enforcement officers and citizens. It creates the position of Director of Security and Emergency Preparedness at the Office of Court Administration (OCA), establishes local court security committees and requires security training for judges and other court personnel. What's more, it protects judges by removing their personal information from public documents and allowing the Department of Public Safety to provide personal security to judges who are threatened or attacked.
A new anti-debtors' prison law (SB 1913) by Senator Zaffirini aims to reduce the number of Texans with low incomes who are jailed for no reason other than their inability to pay traffic tickets and fines for low-level offenses. Specifically, the law increases the availability of community service and work options that defendants can complete in lieu of paying fines and costs.
What's more, mental health parity legislation (HB 10) by Rep. Four Price, R-Amarillo, and Senator Zaffirini will ensure that treatments for mental health conditions and substance use disorders are covered by health insurance plans on par with treatments for physical health conditions. Relatedly, the senator's SB 1326 will help ensure that persons with mental illnesses who interact with the criminal justice system receive timely access to mental health treatments in appropriate settings.
Another new law authored by the senator, SB 402, will require public transit providers to make more persons with disabilities aware of their eligibility for paratransit services, which can help facilitate independent living.
To enhance transparency and open government, the senator authored and passed SB 988, which clarifies that a county judge may participate in a commissioners court meeting via videoconference if he or she cannot be physically present. Additionally, HB 630 by Rep. Donna Howard, D-Austin, and Senator Zaffirini requires state health and human services agencies to broadcast their open meetings live over the Internet and archive the video online.
Protecting privacy is the focus of Senator Zaffirini's SB 840, which eliminates a disparity in law that allowed drone use for surveillance purposes by private persons within 25 miles of the US-Mexico border, but not elsewhere in Texas.
New government accountability laws authored by the senator (SB 255 and SB 262) will help ensure better oversight of state contracts that utilize taxpayer dollars, and her SB 1871 cracks down on criminal enterprises engaging in oil and gas theft.
Eliminating unnecessary regulations that don't protect the public is the focus of Senator Zaffirini's SB 1502, which removes eyebrow threading from the list of activities that requires a barber's license; and SB 1503, which does the same for shampooing.
"As these and other new laws are implemented, I welcome constructive feedback and ideas for additional legislation from residents of Senate District 21," Senator Zaffirini said. "Some of my best bills were suggested by constituents."
Senator Zaffirini is Vice Chair of the Senate Committee on Natural Resources and Economic Development and a member of the Administration, State Affairs and Business and Commerce committees. She also serves as Senate Chair of the Eagle Ford Shale Legislative Caucus and on the Texas Judicial Council and the Texas Access to Justice Commission.
Her legendary work ethic is reflected in her 100 percent perfect attendance in the Texas Senate since 1987, except for breaking quorum deliberately to prevent an untimely re-redistricting that the U.S. Supreme Court (2006) ruled violated the Voting Rights Act and disenfranchised voters in SD 21. Continuing her career-long 100 percent voting record, she cast her 60,000th consecutive vote in 2017.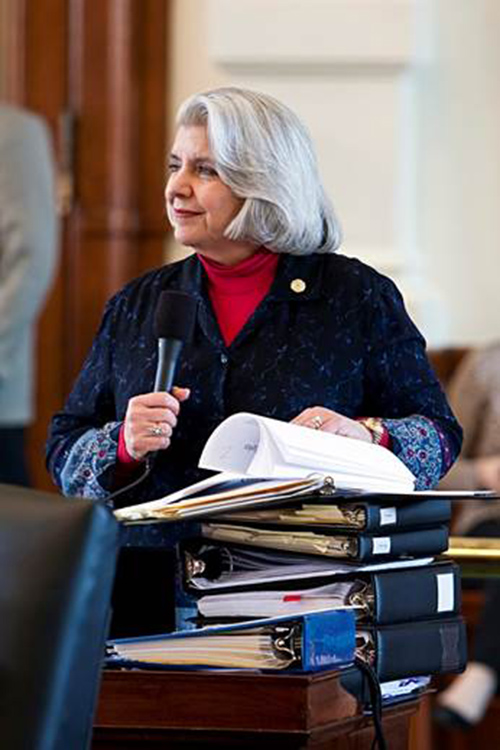 SIXTY NEW LAWS that take effect on Sept. 1 were authored or sponsored by Senator Judith Zaffirini, D-Laredo. They include a statewide prohibition on texting-while-driving and measures to promote privacy and government transparency, expand access to critical health care services, enhance access to justice, eliminate burdensome and unnecessary regulations and improve public safety and security.
###