Senator Judith Zaffirini: District 21
Press Release
FOR IMMEDIATE RELEASE
May 8, 2017
Contact:
Will Krueger
(512) 463-0121
Texas Senate Passes Legislation to Protect San Marcos River
Zone Would Support Enforcement of Existing Laws
(AUSTIN) — The Texas Senate today passed Senate Bill (SB) 965 by Senator Judith Zaffirini, D-Laredo, which would help support law enforcement efforts to protect the San Marcos River and ensure public safety.
SB 965 would allow voters in counties along the river to approve the creation of water recreation safety zones where the counties could impose fees of up to $4 per person for rental of water recreation equipment, shuttle service or river ingress or egress service. The zones would be limited to areas adjacent to the river, and funding generated by the fees would be used to support additional law enforcement in the zones.
"Our goal is to enhance public safety and enjoyment of the San Marcos River, protect landowners' private property rights and preserve the river's natural beauty for future generations," Senator Zaffirini said.
"We thank Lt. Governor Dan Patrick and his staff, Governor Greg Abbott's staff, legislators, the Texas Parks and Wildlife Department, county officials, landowners, the San Marcos River Foundation, the Eyes of the San Marcos River, the Texas Wildlife Association, the League of Conservation Voters of Texas, the Guadalupe-Blanco River Authority, the Meadows Center for Water and the Environment at Texas State University and countless others who collaborated to address this issue."
Due to a lack of law enforcement resources, unincorporated areas along the San Marcos River attract persons who drink irresponsibly and engage in other reckless and unlawful behaviors. As a result there are frequent alcohol-related incidents on the river ranging from minor to catastrophic in nature.
In 2014, for example, a 19-year-old drowned after a day of tubing and drinking alcohol with friends, and in 2016 a 21-year-old woman was charged with intoxication manslaughter after allegedly drinking while floating on the river and being involved in a car crash that killed a young husband and injured his pregnant wife, causing her to lose their unborn child.
"The San Marcos River should be safe, clean and enjoyable for all Texans who visit," Senator Zaffirini said. "Reckless and unlawful behavior recently is concentrated in unincorporated areas along the river where law enforcement resources are stretched thin. Our bill would help give law enforcement officers the resources they need to prevent additional tragedies and enforce existing laws such as those against trespassing, underage drinking and littering."
Under SB 965, if a water recreation safety zone were approved by a county's voters, the fee revenue collected by the county would be used specifically to employ or contract with additional peace officers to provide law enforcement in the zone.
Landowners along the river long have faced problems with excessive littering, trespassing, public intoxication, underage drinking and other drug and alcohol-related offenses. What's more, local business owners testified repeatedly before the Texas Legislature that their businesses, including campgrounds, fly fishing guides and canoe and kayak rental services, have been damaged by the unruly and lewd behavior of intoxicated persons using the river. Trash, glass and debris in the river harm water quality and can pose a danger to humans and wildlife alike.
SB 965 now moves to the Texas House of Representatives for consideration, where it will be sponsored by Rep. John Cyrier, R-Lockhart.
"Law enforcement agencies have lacked the resources to address illegal activity on the river for far too long," Senator Zaffirini said. "Accordingly, I hope that the Texas House of Representatives will pass this bill swiftly and send it to the governor's desk as soon as possible."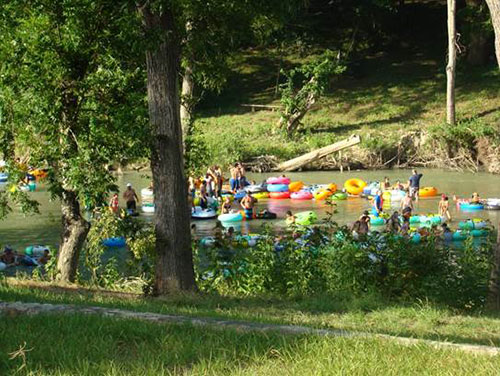 TUBERS ENJOY the cool waters of the San Marcos River. SB 965 by Senator Judith Zaffirini would promote public safety, protect property rights and preserve the river for recreationists and future generations.
###