Senator Judith Zaffirini: District 21
Press Release
FOR IMMEDIATE RELEASE
October 28, 2016
Contact:
Will Krueger
(512) 463-0121
Senator Zaffirini Praises High Turnout for Early Voting,
Urges More Texans to Go Vote
Early Voting Continues Through Nov. 4, Election Day Nov. 8
(AUSTIN) — Senator Judith Zaffirini today (Friday) praised Texas voters for turning out in record numbers during the first week of early voting for the Nov. 8 general election. As of Oct. 27, more than 1.7 million voters in Texas' 15 largest counties had cast ballots.
"The high turnout in early voting is a great sign for our democracy, because it means that Texans understand how important it is to be active voters," Senator Zaffirini said. "I hope that even more will participate during the second week of early voting and on election day. If this momentum continues, our state can break even more records for voter turnout."
Early voting continues through Friday, Nov. 4.
In addition to choosing a new president, voters are facing important elections for state legislative, congressional, and judicial seats, as well as for the Texas Railroad Commission, which regulates the state's important oil and gas industry. Many communities also will choose local officials, including county, city, college and school district leaders.
Voters also will decide the fate of local ballot measures. Austin voters, for example, will decide on a $720 million mobility bond, Laredo voters will consider several city charter amendments affecting the structure and duties of the city council and citizens of Hays County will vote on public safety and transportation infrastructure bonds.
"Many new voters are participating this year because they know the election is incredibly important to the future of our state and country," Senator Zaffirini said. "If you're newly registered to vote, deciding to be a voter in this election is easy."
Senator Zaffirini emphasized the importance of making a plan to vote.
"Decide ahead of time if you're going to vote early or on election day, identify your closest polling location, and make sure you have your ID to vote," she said. "If you do not have one of the seven approved forms of ID and cannot reasonably obtain one, you can still vote by signing a declaration at the polling location. All qualified voters have the right to vote in this election."
More information about voting, approved forms of ID and voting locations in Texas is available via www.VoteTexas.gov or 800/252-VOTE.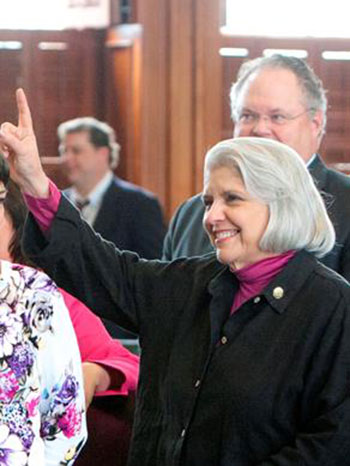 SENATOR JUDITH ZAFFIRINI casts her vote alongside Senator Craig Estes, R-Wichita Falls, in the Texas Senate. She believes that voting is both a right and a responsibility and encourages Texans to register to participate in the November general election.
###