Senator Judith Zaffirini: District 21
Press Release
FOR IMMEDIATE RELEASE
October 24, 2016
Contact:
Will Krueger
(512) 463-0121
Senator Zaffirini Named "Legislative Hero"
by Texas Access to Justice Foundation
Tradition Brings Together Members of Judicial, Legislative, Legal Communities
(AUSTIN) — The Texas Access to Justice Foundation today (Monday) honored Senator Judith Zaffirini, D-Laredo, with its Legislative Hero Award for her work to secure funding and pass legislation enhancing civil legal services for disadvantaged Texans.
The award was presented by Texas Supreme Court Chief Justice Nathan Hecht and Justice Eva Guzman. Also honored were Senator-Elect Bryan Hughes, R-Mineola, and Rep. Jessica Farrar, D-Houston.
"I am grateful to the Access to Justice Foundation for this meaningful award, especially because of its vital work to ensure justice is available to all Texans, regardless of income or background," said Senator Zaffirini, the first Hispanic woman elected to the Texas Senate and a member of the Texas Judicial Council.
Created by the Texas Supreme Court, the nonprofit Access to Justice Foundation provides millions of dollars in annual funding to organizations statewide that provide free civil legal assistance to more than 100,000 low-income Texans per year in matters including domestic violence protection, housing assistance and probate law. The senator's son, attorney and businessman Carlos Zaffirini Jr., recently was appointed by the Supreme Court to the foundation's board.
In 2015 Senator Zaffirini supported $17.5 million in the state budget for civil legal services and an additional $3 million for legal services for veterans and $10 million for sexual assault victims. Also in 2015, her Senate Bills 478 and 512 required the creation of simple, standard forms, in English and Spanish, for landlord-tenant disputes and for wills and property transfers.
"Neither income nor language should be a barrier to accessing the legal system," Senator Zaffirini said. "An even playing field in landlord-tenant disputes and the ability to transfer property are critical for many Texans with low incomes to avoid homelessness and improve their family's quality of life. These rights should be available to all, including those who cannot afford to hire lawyers."
A longtime champion for a fair and accessible justice system, Senator Zaffirini has received more than 900 awards and honors recognizing her legislative, public service and professional work, including awards from the State Bar of Texas, the Texas District and County Attorneys Association, the American Civil Liberties Union and The University of Texas School of Law.
The senator holds B.S., M.A. and PhD degrees in communication from UT, which named her the 2016 Outstanding Communication Alumna, 2013 Presidential Citation recipient, 2009 Distinguished Hispanic Alumna and 2003 UT Distinguished Alumna. In 2016 she was inducted into The Daily Texan Hall of Fame at UT.
Second in seniority in the 31-member Texas Senate, she is the namesake of Texas A&M International University's Senator Judith Zaffirini Student Success Center, United ISD's Senator Judith Zaffirini Elementary School, Laredo Community College's Senator Judith Zaffirini Library, Lake Casa Blanca International State Park's Senator Judith Zaffirini Road and Edinburg's Judith Zaffirini Residential Treatment Center that focuses on fighting drug addiction.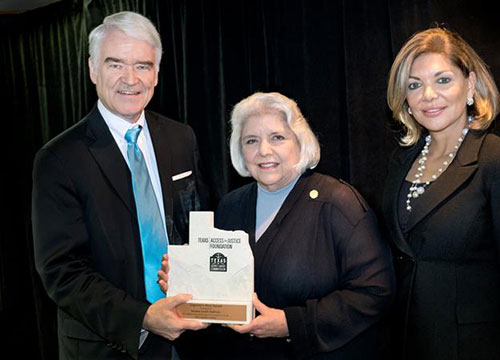 SENATOR JUDITH ZAFFIRINI, D-LAREDO, accepts the Legislative Hero Award from the Texas Access to Justice Foundation. The award was presented by Texas Supreme Court Chief Justice Nathan Hecht and Justice Eva Guzman.
###