Senator Judith Zaffirini: District 21
Press Release
FOR IMMEDIATE RELEASE
October 6, 2016
Contact:
Will Krueger
(512) 463-0121
Zaffirini: Oct. 11 is Deadline to Register to Vote
Before November Election
Voting a Responsibility for Citizens Age 18 and Older
(AUSTIN) — Tuesday, Oct. 11, is the deadline to register to vote in the Nov. 8 general election, Senator Judith Zaffirini, D-Laredo, reminded Texans today (Thursday).
"Texans have less than one week to register to vote in the November election," Senator Zaffirini said. "All eligible Texans should register, especially because this year's election is one of the most important in our lifetimes."
In addition to choosing a new president, voters are facing important elections for state legislative, congressional, and judicial seats, as well as for the Texas Railroad Commission, which regulates the state's important oil and gas industry. Voters in many communities also will choose local officials, including county, city and school district leaders.
Voter registration applications are available at the County Voter Registrar's office and at many libraries, post offices or high schools. In most Texas counties, the Tax Assessor-Collector is also the Voter Registrar. In some counties the County Clerk or Elections Administrator registers voters.
"Voting is not only a right, but also a serious responsibility," Senator Zaffirini said. "I encourage all Texans to register to vote, to consider carefully and thoughtfully the issues and candidates on the ballot, and to participate in the November general election."
"Every vote matters, especially because some elections are decided by very close margins," she added. "What's more, the leaders we elect make decisions that impact countless lives and countless issues, including health and human services, education, veterans and the military, access to justice, transportation and the environment. Whenever anyone complains about governmental policies or practices, I remind him or her that elections have consequences."
Early voting for the Nov. 8 general election takes place from Monday, Oct. 24, through Friday, Nov. 4. More information about voting in Texas is available via www.VoteTexas.gov or 800/252-VOTE.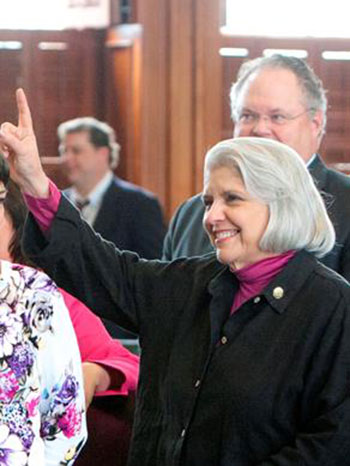 SENATOR JUDITH ZAFFIRINI casts her vote alongside Senator Craig Estes, R-Wichita Falls, in the Texas Senate. She believes that voting is both a right and a responsibility and encourages Texans to register to vote by Oct. 11 and to participate in the November general election.
###