Senator Judith Zaffirini: District 21
Press Release
FOR IMMEDIATE RELEASE
February 22, 2016
Contact:
Will Krueger
(512) 463-0121
Senator Zaffirini to Receive Outstanding Alumna Award from Moody College of Communication at UT-Austin
(AUSTIN) —The Moody College of Communication at The University of Texas at Austin has selected Senator Judith Zaffirini, D-Laredo, as the recipient of its 2015-16 Outstanding Alumna Award. The award is presented annually to a Moody College graduate for distinguished achievement in public and private life.
"Senator Zaffirini's commitment to the citizens and communities of Texas and her outstanding career as a communication professional has brought great distinction to the Moody College of Communication," said Jay Bernhardt, the college's interim dean. "We are extremely proud to count her among our alumni."
Previous recipients of the award include former U.S. First Lady Lady Bird Johnson, storied Texas journalist Wayne Sellers and journalist and presidential advisor Liz Carpenter.
Dr. Zaffirini is an award-winning communication specialist with 13 years of teaching experience, including at the college and university levels. She has received more than 880 awards and honors for her legislative, public service and professional work, including more than 260 in communication. The South Texas Press Association has honored her for her distinguished career in journalism and public service, and the Press Women of Texas (PWT) and the National Association of Press Women have recognized her communications expertise repeatedly with awards for her publications, speeches and public relations campaigns. In 2015 PWT named her its Communicator of Achievement.
Through her business, Zaffirini Communications, she provides professional communication services, including consulting, workshops and seminars, one-on-one coaching, keynote addresses and writing. A distinguished communicator, educator and leader, she holds B.S., M.A. and PhD degrees from UT-Austin, each with a 3.9 grade-point average.
"UT changed my life and empowered me to pursue my professional and public service goals," said Senator Zaffirini, who also has received the Distinguished Alumni and Presidential Citation Awards from the university. "Receiving this award from the Moody College is incredibly meaningful to me because I recognize that my communication education changed and enriched my life. What's more, I am humbled to join an impressive group of previous honorees whom I respect and admire."
A complete list of previous honorees is available via http://moody.utexas.edu/alumni/outstanding.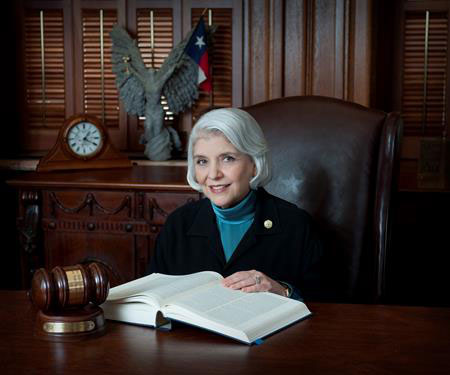 A DISTINGUISHED COMMUNICATOR, educator and leader, Senator Judith Zaffirini is the 2015-16 Outstanding Alumna of the Moody College of Communication at The University of Texas at Austin.
###