Senator Judith Zaffirini: District 21
Press Release
FOR IMMEDIATE RELEASE
January 25, 2011
Contact:
Will Krueger
(512) 463-0121
Senator Judith Zaffirini Reappointed to Senate Finance Committee
(AUSTIN) — Lt. Gov. David Dewhurst on Monday (Jan. 24) reappointed Senator Judith Zaffirini, D-Laredo, to the Senate Finance Committee.
"I am grateful to Lt. Governor Dewhurst for the opportunity to continue to serve on this important committee," Senator Zaffirini said. "I look forward to working with him and my colleagues to address the difficult fiscal challenges facing our state."
Senator Zaffirini has served on the Senate Finance Committee since 1991. As Vice Chair of Finance from 2003 to 2007, she advocated fiscal responsibility in the budgeting process and championed funding for education, public safety and health and human services.
As a former Chair of the Senate Health and Human Services Committee, on which she has served since 1989, Senator Zaffirini is well-known for her expertise in writing Article II, the health and human services portion of the state's budget. When the 2003 legislature faced a $10 billion shortfall, she was credited with saving many essential services and programs that otherwise may have been eliminated or slashed severely.
"Texas is facing its largest budget shortfall in history," Senator Zaffirini said. "Addressing it will require a careful exercise in cutting wherever possible, while preserving vital services and important investments in Texas' future, including early childhood education, higher education and health and human services."
The Senate Finance Committee comprises Senators Zaffirini; Steve Ogden, R-Bryan, Chair; Juan "Chuy" Hinojosa, D-McAllen, Vice Chair; Bob Deuell, R-Greenville; Robert Duncan, R-Lubbock; Kevin Eltife, R-Tyler; Craig Estes, R-Wichita Falls; Eddie Lucio Jr., D-Brownsville; Jane Nelson, R-Flower Mound; Dan Patrick, R-Houston; Kel Seliger, R-Amarillo; Florence Shapiro, R-Plano; Royce West, D-Dallas; John Whitmire, D-Houston; and Tommy Williams, R-The Woodlands.
Senator Zaffirini represents 16 counties and northeast Bexar County.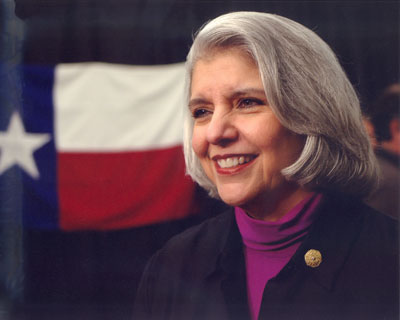 A MEMBER OF THE SENATE FINANCE COMMITTEE, Senator Judith Zaffirini is the second-highest ranking state senator and the highest-ranking senator for Bexar County and the border region. She represents Senate District 21, which includes Atascosa, Bee, northeast Bexar, Dimmit, Duval, Frio, Jim Hogg, Karnes, LaSalle, Live Oak, McMullen, San Patricio, Starr, Webb, Wilson, Zapata and Zavala counties.
###