Senator Juan "Chuy" Hinojosa: District 20
Press Release
FOR IMMEDIATE RELEASE
March 31, 2011
Contact:
Daniela Santoni
(512) 463-0120 office
HINOJOSA, LYLE LOVETT, BILL HAMMOND, GATHER ON SOUTH STEPS IN SUPPORT OF VLT LEGISLATION
(Austin, TX) — More than 500 advocates for Video Lottery Terminals joined Senator Juan "Chuy" Hinojosa, Lyle Lovett, Texas House Speaker Pro-Tem, Beverly Woolley, and TAB President Bill Hammond on the South Steps of the Capitol in support of VLT legislation. Senator Hinojosa filed constitutional amendment, SJR 33, and enabling legislation, SB 1118, which would allow for the operation of video lottery terminals (VLTs) in existing racetracks and federally recognized Indian reservations. Senator Juan "Chuy" Hinojosa released the following statement.
"Texans are in favor of this proposal and it's clear why. This proposal will help keep the $2.5 billion a year Texans spend in neighboring states here at home.
"When people travel to other states to gamble, they pump millions of dollars into the economy - they go out to eat, visit local attractions, and shopping centers. We are talking about an economic impact of $8.5 billion. That's a huge increase in state revenue and right now, we are giving away the jackpot.
"This proposal can create over 77,000 new and permanent jobs in our state, and not just in the racetracks, but in 40 different industry sectors. We don't even have to expand the gaming footprint - placing VLTs in existing racetracks will maximize the value of our existing gaming and entertainment space.
"Texas already has the necessary ingredients to be a leader in horse racing - we have good horses, excellent breeding, great weather for training and a longer racing season - we just need to increase traffic. VLTs will draw more people to the racetracks, increase tourism, make for bigger purses, and benefit the economy of this great state.
"This proposal is a win for Texas."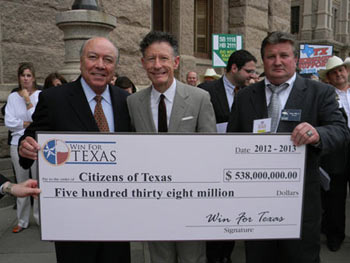 ###