Senator Juan "Chuy" Hinojosa: District 20
Press Release
FOR IMMEDIATE RELEASE
February 2, 2011
Contact:
Daniela Santoni
(512) 463-0120 office
SENATOR HINOJOSA, SENATOR EDDIE LUCIO JR. CELEBRATE MCALLEN DAY, CITY'S 100TH ANNIVERSARY
(Austin, TX) - Senator Juan "Chuy" Hinojosa and Senator Eddie Lucio Jr. celebrated McAllen Day at the State Capitol joined by District 2 City Commissioner Marcus Barrera, District 5 City Commissioner John Ingram, Board Member of the McAllen Chamber of Commerce Bob McCreery, President and CEO of the McAllen Chamber of Commerce Steve Ahlenius and Chairman of the McAllen Economic Development Corporation Don King.
"I am proud to present Senate Resolution 111 with Senator Lucio Jr. in honor of the city of McAllen. We were joined here today by a great number of community and business leaders to commemorate McAllen's centennial celebration," Senator Hinojosa said.
"The City of McAllen is one of the fastest growing regions in the area. Just within the last three decades, our city has grown into an important center for commerce and a key region for international trade with Mexico and the rest of Latin America," Senator Hinojosa continued.
"Just recently, CNN/Money listed the city of McAllen as one of the best places to live within the United States and we have to make sure it remains this way. We need to adequately invest in the future of a rapidly growing population that enhances the economy Texas," concluded Hinojosa.
Senator Lucio shared his comments on McAllen day at the State Capitol.
"McAllen is an economic engine for South Texas, a growing part of District 27, and a place of innovation and creativity," Senator Lucio said. "We had Brownsville day here last week, McAllen day today and Harlingen day next week. It's exciting to see so many communities coming to Austin. We need Valley voices at the Capitol to put human faces to the needs of South Texas," Senator Lucio concluded.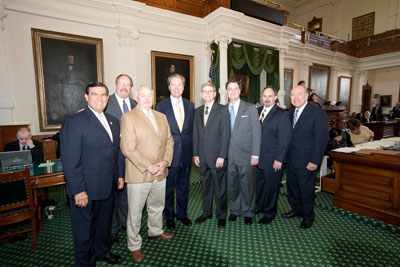 ###