Senator Bryan Hughes: District 1
E-MAIL YOUR SENATOR
Click here to e-mail the Office of Senator Bryan Hughes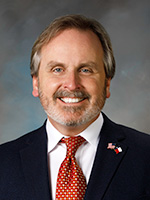 Occupation: Attorney
Education: BBA, University of Texas at Tyler; JD, Baylor University School of Law
Legislative Experience: House Member, 2003 - 2017; Senate Member: 2017 - present
Hometown: Mineola
Party: Republican
Bryan Hughes is serving his third term in the Texas Senate, representing the 19 counties of Senate District One in Northeast Texas.
Born and raised in East Texas, Bryan attended Tyler Junior College and the University of Texas at Tyler, receiving his B.B.A. in economics,
cum laude
, and becoming the first member of his family to receive a bachelor's Degree. He went on to Baylor University School of Law and then served as law clerk to U.S. District Judge William Steger of Tyler before entering private practice which he maintains, helping families and businesses solve problems and deal with difficult challenges.
He has been honored as Baylor Young Lawyer of the Year and Outstanding Alumnus of both Tyler Junior College and the University of Texas at Tyler. For his service in the Legislature, Senator Hughes has received the Taxpayer Champion Award, the Visionary Leader Award from Combined Law Enforcement Associations of Texas, and the Horizon Award from Texas Right to Life. He has also been named Defender of the American Dream by Americans for Prosperity and Guardian of Small Business by the National Federation of Independent Business. Mothers Against Drunk Driving honored Senator Hughes as 2017 Legislator of the Year, and the American Conservative Union consistently has given him their highest rating.
Senator Hughes promotes individual opportunity and personal liberty so that everyone can experience the American Dream.
Senator Hughes serves as Chairman of the Senate Committee on State Affairs and the Senate Committee on Jurisprudence and as a member of the Finance, Health & Human Services, Natural Resources & Economic Development, and Nominations Committees.
E-MAIL YOUR SENATOR
Click here to e-mail the Office of Senator Bryan Hughes
Capitol Address
District Address
The Honorable Bryan Hughes
P.O. Box 12068
Capitol Station
Austin, TX 78711

(512) 463-0101

(TEL)

110 N. College Ave., Ste. 207
Tyler, Texas 75702

(903) 581-1776

(TEL)

District Address
District Address
Gregg County Courthouse
101 E. Methvin, Suite 301
Longview, Texas 75601

(903) 753-8137

(TEL)


(903) 753-8568

(FAX)

115 N. Wellington, Suite 102
Marshall, Texas 75670

(903) 923-0404

(TEL)


(903) 923-0391

(FAX)

District Address
District Address
701 N. Pacific Street
Mineola, Texas 75773

(903) 569-8880

(TEL)

Texarkana College
2500 N Robinson Road, Suite 190
Texarkana, TX 75599

(903) 223-7958

(TEL)
(Click the map to view a detailed district map in PDF format)