OP-ED
FOR IMMEDIATE RELEASE
April 15, 2015
Contact:
Will Krueger
(512) 463-0121
Texas Should Pass Texting Ban During Distracted Driving Awareness Month
by Senator Judith Zaffirini
April is Distracted Driving Awareness Month, and, unfortunately, we don't have to look far to understand the terrible toll that distracted driving is taking on Texas families.
Last month alone, 15-year-old Delia Ramirez of Austin was killed when a distracted driver ran a red light and crashed into the vehicle she was riding in, and 87-year-old Helen Montfort of Corsicana was killed and her daughter seriously injured when a distracted driver of a pickup truck rear-ended their vehicle.
The problem of distracted driving is getting progressively worse in Texas. In 2014 distracted driving was a factor in more than 100,000 crashes in our state, an increase of six percent from 2013. What's more, these crashes were responsible for more than 3,200 serious injuries and 468 deaths. All were needless and could have been prevented, but for distracted drivers.
Texting while driving increases the risk of a crash by at least eight times, and according to the Texas Department of Transportation, distracted driving is the cause of one in every five crashes in our state. A recent study by the AAA Institute for Traffic Safety indicates that distracted driving was the cause of nearly 60 percent of crashes in which teenagers were behind the wheel.
There's good reason to believe a statewide ban on texting while driving could make a real difference in reducing the number of deaths and injuries related to distracted driving. Researchers at Texas A&M University recently found that the number of car crash hospitalizations declined in states that instituted strict bans on texting while driving.
No text is worth a life, and texting bans are worth it if they save even one life. More than 40 Texas cities have recognized this and passed their own bans on texting while driving.
This patchwork of local ordinances is better than nothing, but it can be confusing to drivers. What we need is one uniform, statewide rule. Like the well-known state law requiring Texans to buckle up, a statewide ban on texting will ensure drivers know they are prohibited from texting while driving on city streets and state highways.
Accordingly, this legislative session Rep. Tom Craddick, R-Midland, and I again have filed the Alex Brown Memorial Act, named after one of Rep. Craddick's constituents who was killed in a single-car rollover crash on her way to school. She was distracted by text messages on her cell phone.
It's time for Texas to get serious about distracted driving and join the 44 other states that already prohibit texting while driving. The Texas House of Representatives already has passed the Alex Brown Act overwhelmingly, and it's time for the Texas Senate to do the same.
Passing the bill during National Distracted Driving Awareness Month would send a strong message that our state is serious about saving lives and preventing unnecessary deaths and injuries.
In the meantime, there are things you can do to reduce the risk of having a distracted driving crash. For example, you can put your phone in a place where you can't see it and won't be tempted to reach for it. Alternatively, you can put your phone in silent mode until you reach your destination, because the less you hear it, the less you'll be tempted to reach for it.
If you have a passenger, make him or her your "designated texter." What's more, there are many downloadable smartphone apps such as Live2Text and AT&T's DriveMode that can help you stop texting while driving.
Perhaps most important, the next time you see friends or family members start to send a text while driving, remind them that it can wait. Their lives—and yours—could depend on it.
Senator Judith Zaffirini represents District 21 in the Texas Senate.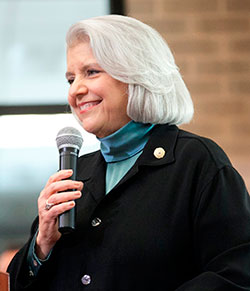 ###