Press Release
FOR IMMEDIATE RELEASE
February 3, 2009
Contact:
Celeste Villarreal
(512) 463-0121
Dewhurst Appoints Zaffirini Higher Education Chair
(AUSTIN) — Lt. Gov. David Dewhurst Friday (Jan. 30) appointed Senator Judith Zaffirini, D-Laredo, Chair of the Senate Higher Education Committee, which he simultaneously upgraded from a subcommittee. He also re-appointed her to the Senate Finance, Health and Human Services and Administration committees and to the upgraded Economic Development Committee.
"Because higher education issues are so important and timely," Senator Zaffirini said, "Lt. Gov. Dewhurst empowered us to address them more swiftly, efficiently, effectively and fairly."
She explained that legislation reported favorably by her committee will flow directly to the Senate for consideration, instead of to the Senate Education Committee. Her committee will process legislation addressing pressing issues facing colleges and universities, including tuition deregulation, the top ten rule and the need for additional tier one universities. Senator Zaffirini previously chaired the Higher Education Subcommittee since 2005; the Senate Finance Subcommittees on Capital Funding, on Contracting and Higher Education; and the Health and Human Services Committee from 1993 to 1999.
She has served on the Senate Finance Committee since 1991 and was a member of the Education Committee since 1989. As Vice Chair of Finance from 2003 to 2007, Senator Zaffirini was instrumental in drafting a balanced budget while championing education, public safety and health and human services.
"Also serving on the Economic Development Committee will be an exciting new challenge," Senator Zaffirini said. "I look forward to collaborating more closely with groups including the Texas Border Coalition as we consider legislation to enhance economic development."
Also a former Chair of the Senate Health and Human Services Committee, on which she has served since 1989, Senator Zaffirini is known for her expertise in writing Article II, the health and human services portion of the state's budget.
When the 2003 legislature faced a $10 billion shortfall, she was credited with saving many essential services and programs that otherwise may have been eliminated or slashed severely.
Senator Zaffirini will serve a fourth term on the Senate Committee on Administration that processes legislation for the Local and Uncontested Calendar—approximately 75 percent of the bills passed by the Senate each session.
The committee also oversees Senate committee budgets, major travel and purchases.
"These committee assignments reflect the areas that are most important for the families of Senate District 21 and will facilitate my addressing our highest legislative priorities," Senator Zaffirini said. "I am grateful to Lt. Gov. Dewhurst and look forward to continuing to work with him and with my legislative colleagues while championing legislation and funding that will benefit Texans. I am confident that the 81st legislative session will be highly productive."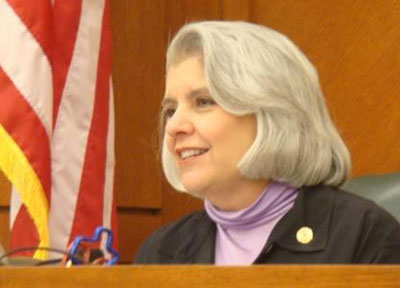 SECOND IN SENIORITY IN THE 31-MEMBER TEXAS SENATE, Senator Judith Zaffirini is the highest-ranking senator for Bexar County and the border region. Lt. Gov. David Dewhurst appointed her Chair of the upgraded Senate Higher Education Committee. She represents Senate District 21, which includes Atascosa, Bee, northeast Bexar, Dimmit, Duval, Frio, Jim Hogg, Karnes, LaSalle, Live Oak, McMullen, San Patricio, Starr, Webb, Wilson, Zapata and Zavala counties.
###